With the 2005 baseball season ramping up in this World Year of Physics, it's good to remind ourselves of ways in which the worlds of Physics and Baseball have intersected, if not nearly collided.
There have clearly been some efforts towards bringing the physics way of seeing the world to understanding some aspects of the game, such as this book by Robert K. Adair (who taught my sophomore E&M class back in 1992), or these studies of airflow around a knuckleball I found on Google.
There have also been stranger encounters, such as the infamous one between catcher Moe Berg and Werner Heisenberg. Berg (whose life is easily accessible via a Google search). Berg graduated from Princeton in the 1920's, played in the major league throughout the 20's and 30's, graduated Columbia law school in the late 20's, and even toured Japan with baseball All-Stars like Babe Ruth and Lou Gehrig.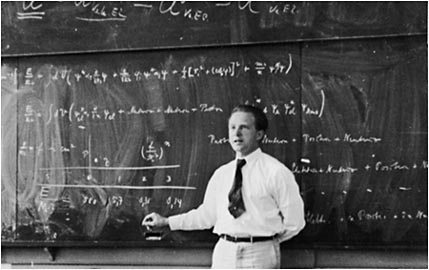 Things connect back up with physics when we find out (in perhaps the only mention of a physicist on espn.com - besides Bob Adair...) that Berg was sent by the OSS (the precursor to the CIA) to kill Werner Heisenberg, who was thought to be leading the effort to produce the German atomic bomb:
Berg, according to one biography, was prone to blunders: getting caught trying to infiltrate an aircraft factory during his training, dropping his gun into a fellow passenger's lap, and being recognized by wearing his O.S.S.-issue watch.

Despite these mistakes, Berg was well-regarded enough to have been chosen to carry out one of the O.S.S.' more ambitious endeavors - a plot to possibly assassinate Werner Heisenberg, the head of Nazi Germany's atom-bomb project. Berg, who spoke German fluently, was sent in December 1944 to Zurich to attend a lecture by Heisenberg. Berg's assessment of the situation was that Germany was not close to having a nuclear bomb, and there was never an attempt to kill Heisenberg.
Or as another website put it:
And if Moe Berg had called fastball instead of curve, Heisenberg, innocent (or not) would have been murdered. That was then.
Ironic in the way it was the assessment of an observer who would have ultimately decided Heisenberg's life or death (indirect shades of Schrodinger's cat). And this observer was not just a secret agent, but a representative from baseball, an expression of purely classical mechanics. I wonder on how many levels Einstein, with his initial support of the US nuclear program (based on his fear of the German one) as well as his lifelong skepticism about (and even antagonism towards) quantum mechanics (even after having invented it, in some sense, in 1905), would have reacted to Berg pulling the trigger?