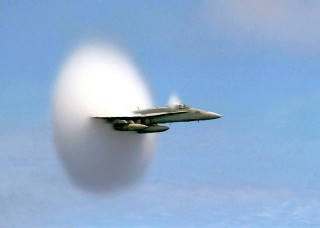 In the blog-about-a-blog, blogging-about-a-blog department: here is a fascinating post from yesterday's issue of Clive Thompson's always-excellent Collision Detection.
Apparently if you look very closely at this video of Discovery lifting off (click on "WB-57 Chase Plane Video"), about 50 seconds in you'll see a white puff of cloud form around the shuttle. I watched the video myself and can't quite spot it, but I've been assured it's there -- it's just that the video is really shaky. Anyway, the cloud is caused by the deeply cool Prandtl-Glauert Singularity -- a sudden, supercold pocket of air generated by a wing that is moving at near the speed of sound.

The clouds appear for the same reason that clouds always form, namely, that the air has cooled to the point that the ambient water vapor condenses. Flows around bodies and wings always change the temperature and pressure of the fluid ... At speeds near that of sound, the temperature and pressure variations occurring at every speed can also be exaggerated in steady level flight. The mechanism for this near-sonic exaggeration of the temperature variations is the so-called Prandtl-Glauert singularity which requires that pressure and temperature perturbations approach ±¥ as the flight speed approaches the ambient sound speed.

Someone once told me that just before the Concorde broke the sound barrier, if passengers looked out the window they could "see" sound waves forming along the wings. That's got a lovely poetry to it, but it's not true: What Concorde passengers were seeing were Prandtl-Glauert condensation clouds.

(Thanks to Boing Boing for this one!)
(Thanks Clive, now back to mine:) Now of course this is incredibly interesting, since almost everyone I know who sees this image thinks it is an image of a sonic boom. Even more interestingly, colleagues of mine have started getting very interested in seeing sonic booms in RHIC collisions as a jet traverses the hot, dense medium we make there (as suggestedby the "triangular" emission patterns seen on the top right and lower left). Not to try and propose anything here, but could we be mistaking some sort of "condensation" effect with a shock wave? Of course, both of these phenomena are non-trivial consequences of objects interacting with a medium -- amazing in itself -- but perhaps it's a little premature to claim we really "understand" these new data. Then again, with Quark Matter coming up next week, I may well have my worldview rocked yet again.