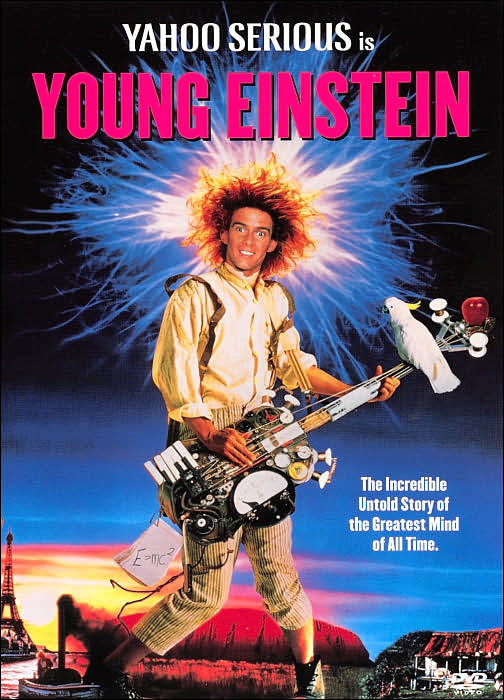 "Einstein's Big Idea" (EBI, for short) was striking to me in ways I wouldn't have imagined before seeing it. It doesn't dwell for long on the concepts, experimental techniques, or mathematics of a physical discovery. Rather, it attempts the more ambitious goal of reconstructing the historical milieu of a set of previous discoveries, and then tries to show how the various pieces of the puzzle converged in a flash of insight to einstein. In doing so, it certainly doesn't try and suggest that these insights were anything less than hard-won. The underlying message seemed to me to be that important discoveries are actively discovered by a person (vs. being passively "arrived at" by a community consensus). The show is also clearly trying to demonstrate that the talent for scientific discoveries has no preference for any particular type of person or background. It doesn't matter whether one is man or woman, religious or heretic, insider or outsider, methodical or inspired. The key features that seem to characterize the discoverer are a broad set of interests, a deep education, an open mind, and ultimately an overarching passion for the subject (and often for life -- and love -- itself).
In few cases were these discoveries their main goal; most of these people had interests in a broad variety of scientific, and often non-scientific problems. Faraday was a former bookmaker, who ended up working in a chemist's laboratory, who was clearly obsessed with "trying things out" and assessing the consequences with open eyes, avoiding the assumptions which were shown to be blinding to those from more traditional backgrounds (a feature also attributed to Einstein later on). Emilie du Chatelet was a polymath of the highest order, her contributions to physics and mathematics covering a wide range, and her particular involvement in the E=mc2 story shown to be just one of her many obsessions. Einstein was in many ways the most extreme case here, writing a series of papers in 1905 on essentially unrelated topics, each of them becoming classics in their fields.
Without a broad awareness of a variety of scientific phenomena and concepts, it is probably more difficult to have a mind open enough to accomodate the "happy accident" of a particular experimental result or a new (or sometimes old) mathematical technique. Faraday was clearly able to visualize forces carried by invisible fields at a time when poeple only considered forces (like electricity) being somehow carried through wires. He was able to take the growing set of results on electromagnetic forces and create heuristic pictures that let him organize the information and suggest new experiments. Meitner was trying to build bigger nuclei, but was able to accomodate the possibility that nuclei could actually split apart, despite no previous evidence to suggest this before observations by her and her collaborators. Einstein fought with the the contradictions between Galilean relativity (which makes velocities dependent on the motion of the observer) and Maxwell's electromagnetic theory (which predicted a constant speed of light in all frame) until he saw how to subjugate the former to the latter with special relativity.
And yet, in all cases deep scientific knowledge and rigor was a real prerequisite for progress. Although a natural brilliance and some sort of "intuition" was involved in all of these jumps, all of these scientists were characterized by an intense training in their field. Lavoisier was probably the most devoted to pure rigor, especially in his dealings with men like Jean-Paul Marat, whom he dismissed (leaidng Marat to plot Lavoisier's demise eventually...) But even Faraday, while not traditionally educated, apprenticed with Sir Humphry Davy. And thus, while he appeared to be the most natural talent, he probably had to suffer the most to develop his skills to prove himself to the establishment. Einstein is famous for being a poor student - but it's more appropriate to say that he didn't apply himself in things that didn't interest him. EBI shows him to be interested only in math, physics, philosophy, his viola (and the ladies) and essentially uninterested in everything else, but he applied himself intensely to those subjects he appreciated.
Finally, one also notices that these were people not simply intense about science, but about their lives in general. Faraday was clearly the most religious of the bunch, belonging to a Quaker sect, but this was clearly tied in with his passion to elucidate patterns in the physical world. Du Chatelet was a true bon vivant, living extravagantly outside of Paris with a succession of lovers. Lavoisier had no need for a scientific career, finding his only true pleasure in life collaborating with his wife on his experiments. And Einstein is portrayed in a way that emphasizes his passionate, bohemian, and evn artisitic temperament, as opposed to the thoughtful pacifist we often get to know from photographs, writings, quotes, and historical accounts. The argument seems to be that intense personalities tend to have the drive (and maybe the need?) to challenge received truths and attempt to forge new ones.
So just a few (or more than a few) thoughts on the show and the issues it addresses. Sorry for being long-winded, but there's a lot there!